SGI UV 2000 ("UV") has been introduced as shared-memory servers in Supercomputer System.

UV has the following features: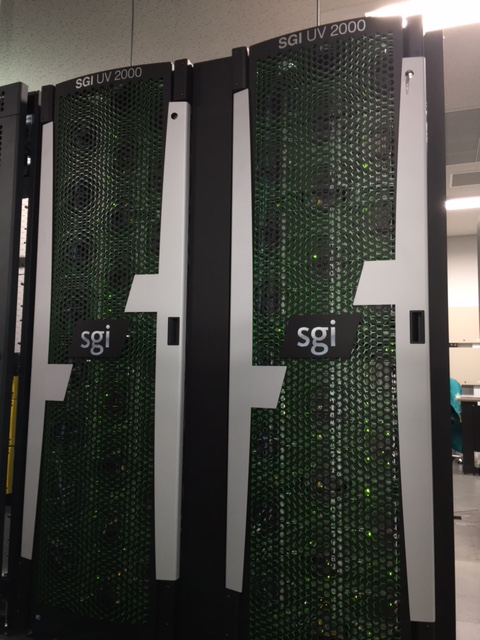 SGI UV2000 is an advanced symmetric multiprocessing (SMP) system designed for compute-intensive, fast algorithm workloads such as CAE, genome assembly, and scientific simulations.
SGI UV2000 features a modular chassis design that enables users to grow their system without adding complexity. By adding additional chassis and using an Enhanced Hypercube topology, UV2000 can scale up to 256 sockets and 4,096 threads, all operationg as a single system. It's like running a giant workstation with lightning speed nad maximum investment protection.
SGI UV2000 is designed with optimum flexibility. Featuring Intel Xeon E5-4600 v2 processors with eight DIMMs per socket, the system's x86 architecture delivers a high processor to memory ratio.
Industry-standard PCIe Gen3 expansion slots provide countless options for persistent storage with fast I/O, very-high bandwidth connectivity. For hardware, select from the entire SGI InfiniteStorage line of Storage Servers, RAID and tape libraries, as well as industry-standard 3rd party components.
Hardware Resources
CPU: 8 Core Intel 64bit Xeon E5-4627 v2 3.30GHz
Processor: 512 CPUcores (64 Sockets)
Memory: 16 TB
Nodes: 2
System Resources
SUSE Linux Enterprise Server 11 is working on UV.
Link