"Toward the best synthesis for Better Society"
We will work towards the goal of better and more sustainable society through the exploration of new methods for the synthesis of organic molecules from renewable sources, which will serve as the building blocks of a greener chemical industry.
While pursuing chemical studies, we will strive to become better scientists, to tackle the big issues of our generation, come up with new ideas and challenge the old ones.
What can you do with us?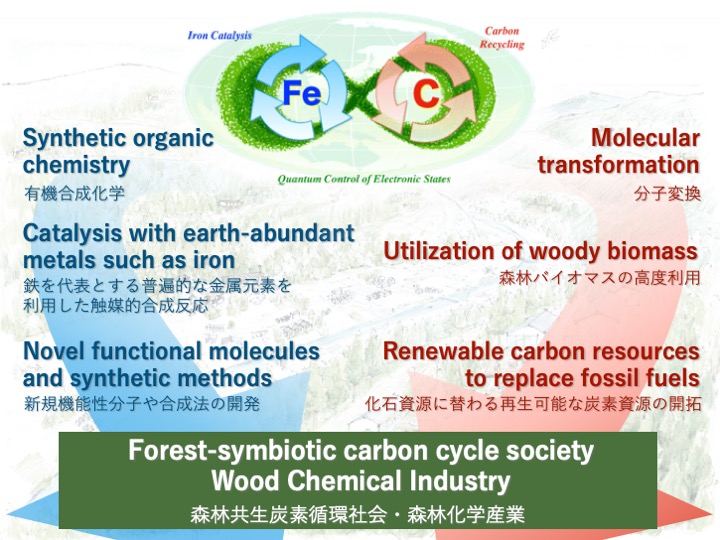 The main goal of this research group is to develop new reactions to take full advantage of currently untapped resources.
In order to develop a more sustainable society, our group is developing new synthetic routes that solely rely on earth abundant materials as both reaction feedstock (e.g. woody biomass) and catalysts (e.g. iron, aluminum, zinc, etc..).
We have recently started to develop new environmentally-friendly chemical methods for the direct synthesis of value-added compounds from woody biomass.
In the past, our group has successfully developed various iron-catalyzed synthetic reactions, but fundamental challenges still exist in the precise control of these reactions. For example, a careful ligand design has proven to be the key step for the development of an iron-catalyzed cross-coupling reaction, but there is still so much more we need to understand and discover in this field.
In addition to iron-based complexes, the group has developed new catalyst based on metalized synthetic peptides (Ass. Prof. Takaya) and peptide-coated metallic nanoclusters (Assist. Prof. Isozaki), both of which have demonstrated a remarkably precise molecular control.
Research Topics