研究成果 / Publications
2023
203. Spontaneous Polarization Induced Optical Responses in a Two-Dimensional Ferroelectric Halide Perovskite
202. Solid-state Chromism of Zwitterionic Triarylmethylium Salts
201. Intense Absorption of Azulene Realized by Molecular Orbital Inversion
200. Tin Halide Perovskite Solar Cells with Open-Circuit Voltages Approaching the Shockley?Queisser Limit
199. Bilayer Indium Tin Oxide Electrodes for Deformation-Free Ultrathin Flexible Perovskite Solar Cells
R-10. Prospects for Tin-Containing Halide Perovskite Photovoltaics
198. Effects of electron-accepting substituents on the fluorescence of oxygen-bridged triarylamine
197. BAr2-bridged Azafulvene Dimers with Tunable Energy Levels for Photostable Near-infrared Dyes
196. Tripodal Triazatruxene Derivative as a Face-On Oriented Hole-Collecting Monolayer for Efficient and Stable Inverted Perovskite Solar Cells

Press Release (Kyoto-u HP)
Press Release (Kyoto-u, ICR HP)
195. Synergistic Surface Modification of Tin-Lead Perovskite Solar Cells
2022
194. Cat-CVD SiNx as a gas barrier for application to perovskite solar cells
R-9. Challenges and strategies toward long-term stability of lead-free tin-based perovskite solar cells
193. Composition-Property Mapping in Bromide-Containing Tin Perovskite Using High-Purity Starting Materials
192. A Universal Surface Treatment for p-i-n Perovskite Solar Cells
191. Perovskite/Perovskite Tandem Solar Cells in the Substrate Configuration with Potential for Bifacial Operation
190. Molecular engineering of enamine-based hole-transporting materials for high-performing perovskite solar cells: influence of the central heteroatom
189. Rapidly expanding spin-polarized exciton halo in a two-dimensional halide perovskite at room temperature
188. Operational stability, low light performance, and long-lived transients in mixed-halide perovskite solar cells with a monolayer-based hole extraction layer
187. Optimized Carrier Extraction at Interfaces for 23.6% Efficient Tin-Lead Perovskite Solar Cells
186. Metal-free ferroelectric halide perovskite exhibits visible photoluminescence correlated with local ferroelectricity
185. Multivariate Analysis of Mixed Ternary and Quaternary A-Site Organic Cations in Tin Iodide Perovskite Solar Cells
184. Carrier lifetime measurement of perovskite films by differential microwave photoconductivity decay
183. Anti-Stokes photoluminescence from CsPbBr3 nanostructures embedded in a Cs4PbBr6 crystal
182. Starburst Carbazole Derivatives as Efficient Hole Transporting Materials for Perovskite Solar Cells
2021
181. Mixed lead-tin perovskite films with >7 μs charge carrier lifetimes realized by maltol post-treatment
180. Immediate and Temporal Enhancement of Power Conversion Efficiency in Surface-Passivated Perovskite Solar Cells
179. Ultrastrong coupling between THz phonons and photons caused by an enhanced vacuum electric field
178. Formation of trans-Poly(thienylenevinylene) Thin Films by Solid-State Thermal Isomerization
177. Enhancing the Hot-Phonon Bottleneck Effect in a Metal Halide Perovskite by Terahertz Phonon Excitation
176. Elucidating Mechanisms behind Ambient Storage-Induced Efficiency Improvements in Perovskite Solar Cells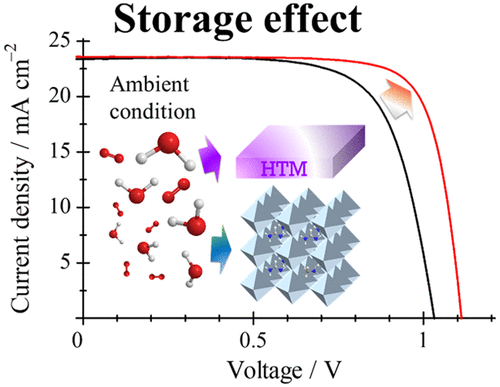 175. Near-Ultraviolet Transparent Organic Hole-Transporting Materials Containing Partially Oxygen-Bridged Triphenylamine Skeletons for Efficient Perovskite Solar Cells
R-8. Progress in recycling organic-inorganic perovskite solar cells for eco-friendly fabrication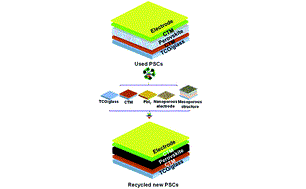 2020
R-7. Materials Chemistry Approach for Efficient Lead-Free Tin Halide Perovskite Solar Cells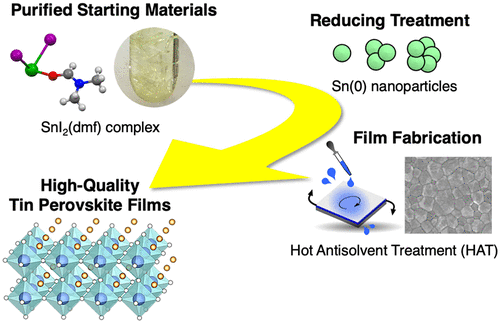 174. Ag-(Bi, Sb, In, Ga)-I Solar Cells: Impacts of Elemental Composition and Additive on the Charge Carrier Dynamics and Crystal Structures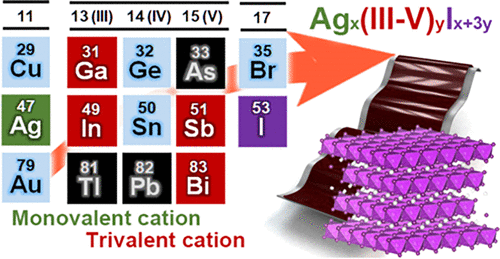 173. Large thermal expansion leads to negative thermo-optic coefficient of halide perovskite CH3NH3PbCl3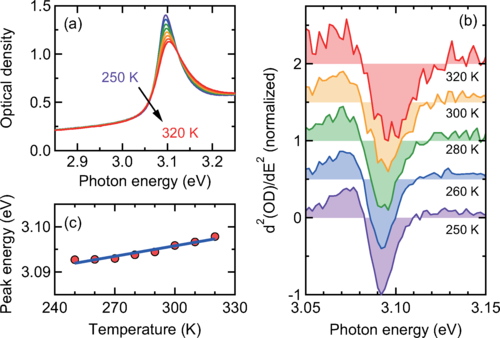 172. Hole-Transporting Polymers Containing Partially Oxygen-Bridged Triphenylamine Units and Their Application for Perovskite Solar Cells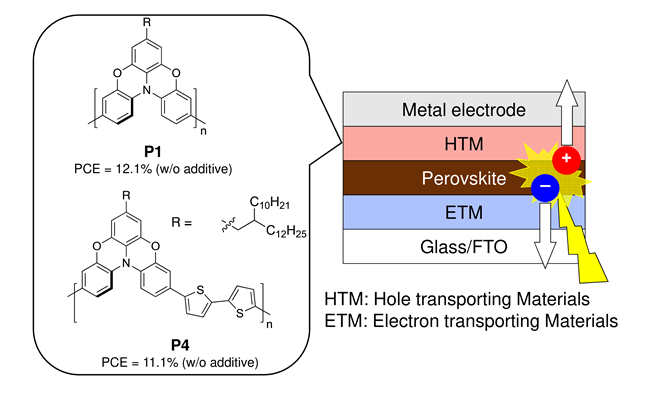 171. Additive-free Cost-Effective Hole-Transporting Materials for Perovskite Solar Cells Based on Vinyl Triarylamines
170. Sn(IV)-free tin perovskite films realized by in situ Sn(0) nanoparticle treatment of the precursor solution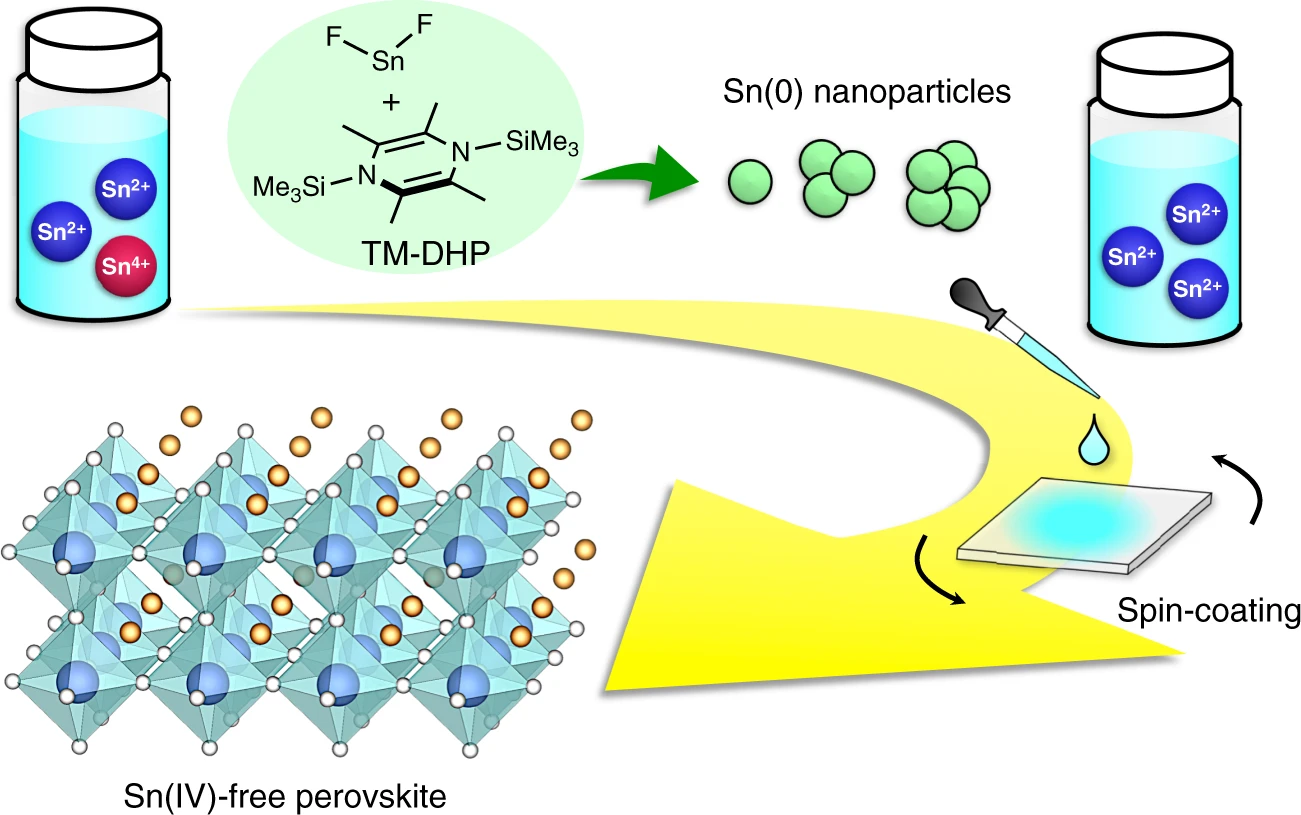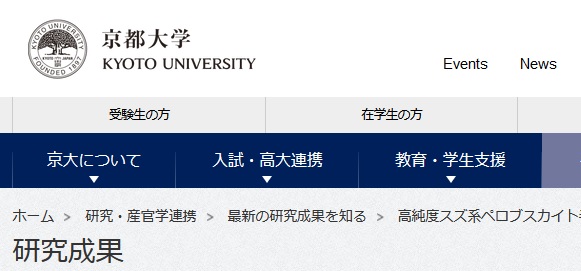 Press Release (Kyoto-Univ. HP)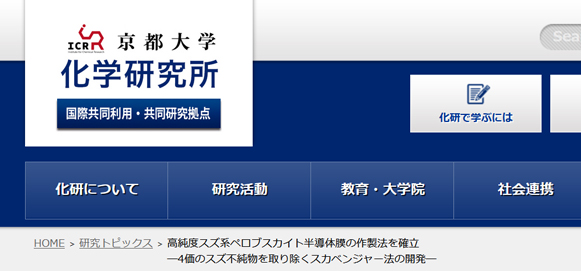 Press Release (Kyoto-u, ICR HP)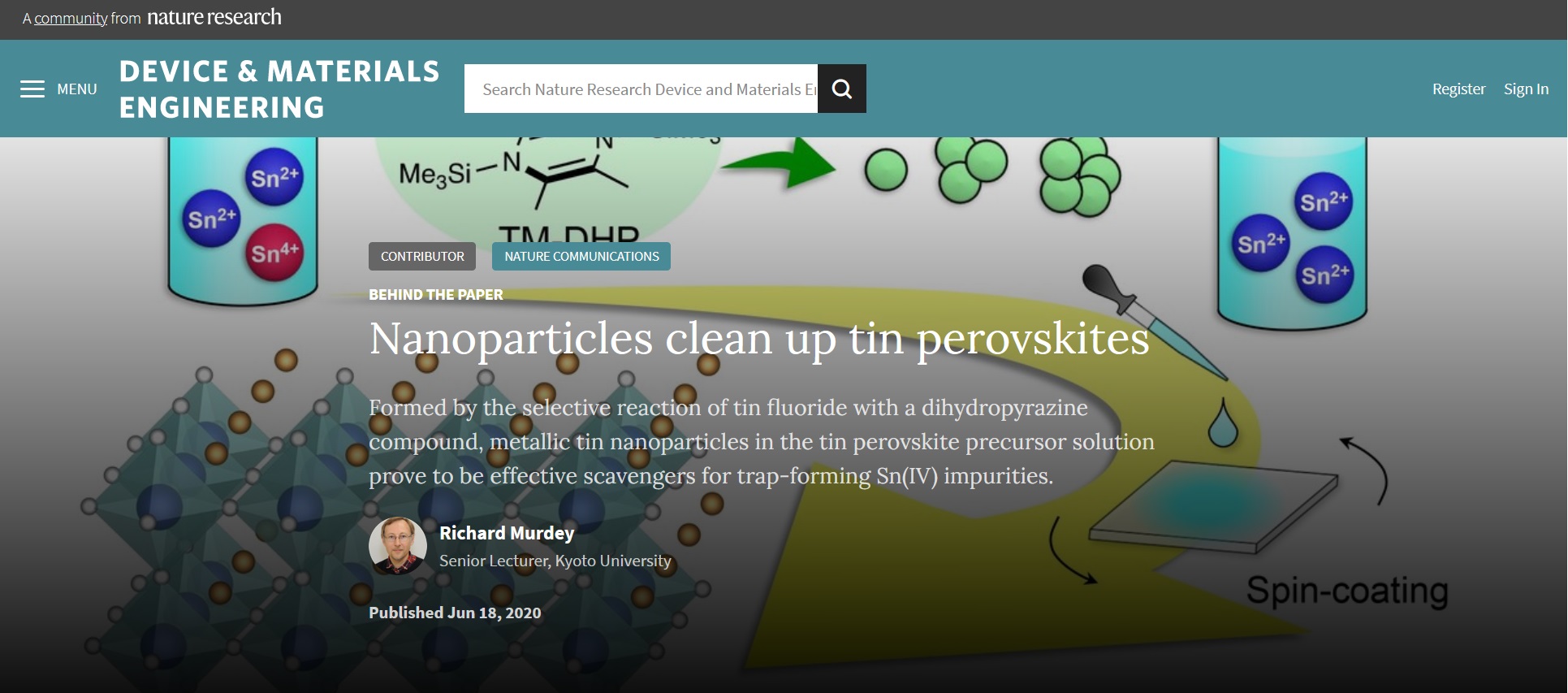 Nature Research Device & Materials Engineering Community

169. How the Mixed Cations (Guanidium, Formamidinium, and Phenylethylamine) in Tin Iodide Perovskites Affect Their Charge Carrier Dynamics and Solar Cell Characteristics
168. Recycled Utilization of a Nanoporous Au Electrode for Reduced Fabrication Cost of Perovskite Solar Cells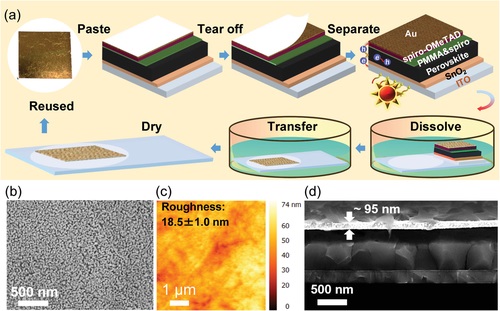 2019
167. How to Make Dense and Flat Perovskite Layers for >20% Efficient Solar Cells: Oriented, Crystalline Perovskite Intermediates and their Thermal Conversion
166. Single crystal structure and electroluminescence efficiency of blue fluorescence OLED emitters using triple core chromophores
165. Propeller-Shaped Aluminum Complexes with an Azaperylene Core in the Ligands
164. Photophysics of lead-free tin halide perovskite films and solar cells
163. Iodine-rich mixed composition perovskites optimised for tin(IV) oxide transport layers: the influence of halide ion ratio, annealing time, and ambient air aging on solar cell performance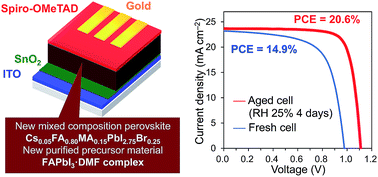 162. Influence of hole mobility on charge separation and recombination dynamics at lead halide perovskite and spiro-ometad interface
161. Phthalimide‐Based Transparent Electron‐Transport Materials with Oriented‐Amorphous Structures: Preparation from Solution‐Processed Precursor Films
160. Planar Perovskite Solar Cells with High Efficiency and Fill Factor Obtained Using Two-Step Growth Process
159. A Purified, Solvent-Intercalated Precursor Complex for Wide Process Window Fabrication of Efficient Perovskite Solar Cells and Modules
158. Iodide-Mediated or Iodide-Catalyzed Demethylation and Friedel?Crafts C?H Borylative Cyclization Leading to Thiophene-Fused 1,2-Oxaborine Derivatives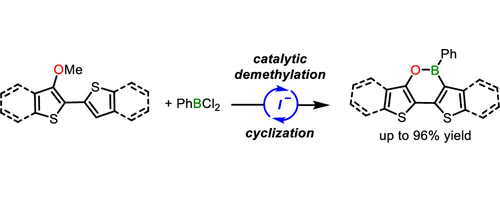 157. High-order harmonic generation from hybrid organic-inorganic perovskite thin films
156. Direct observation of charge transfer at the interface between PEDOT:PSS and perovskite layers

155. Molecular Orientation Change in Naphthalene Diimide Thin Films Induced by Removal of Thermally Cleavable Substituents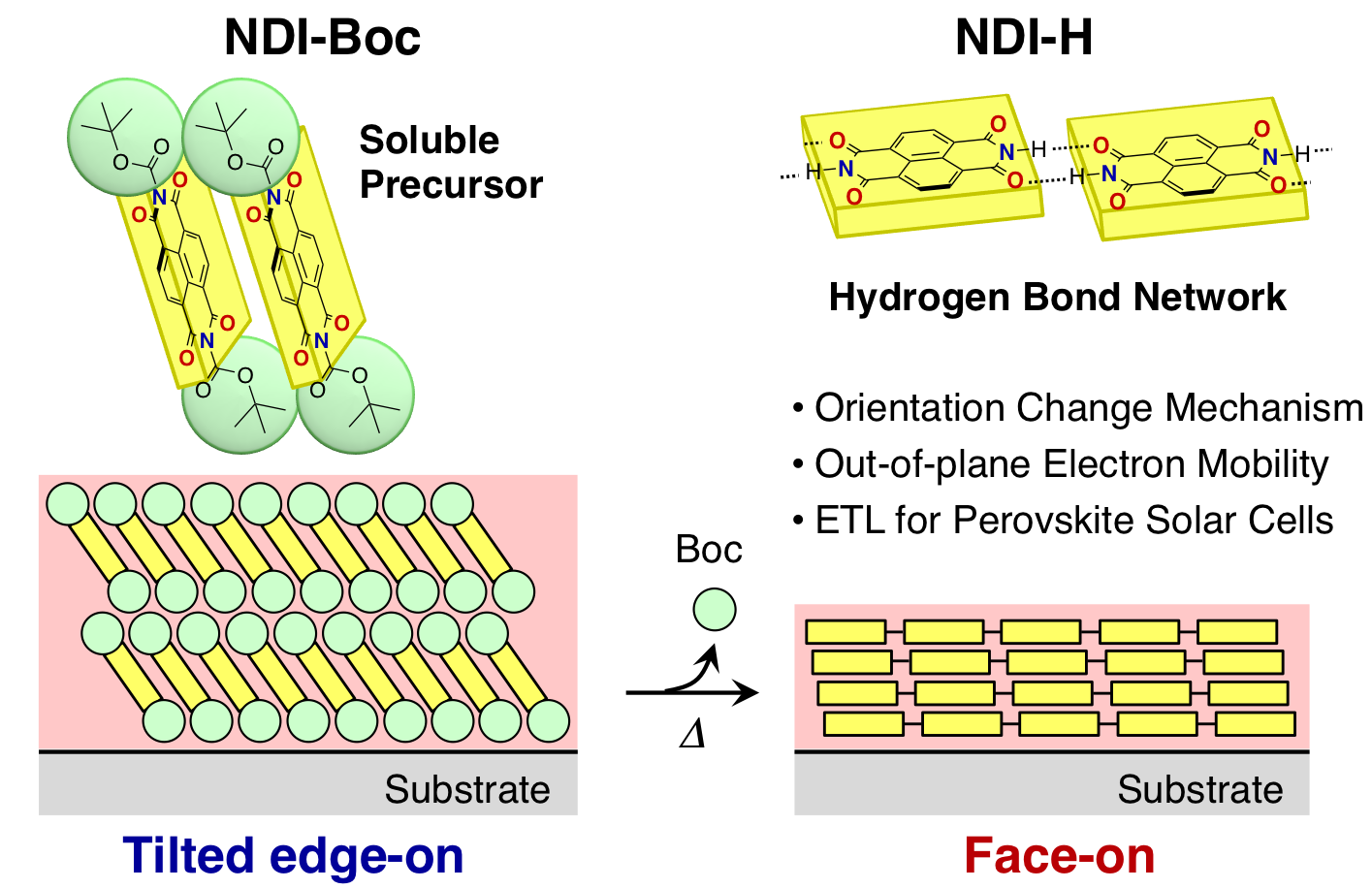 154. Donor-Acceptor Polymers Containing Thiazole-Fused Benzothiadiazole Acceptor Units for Organic Solar Cells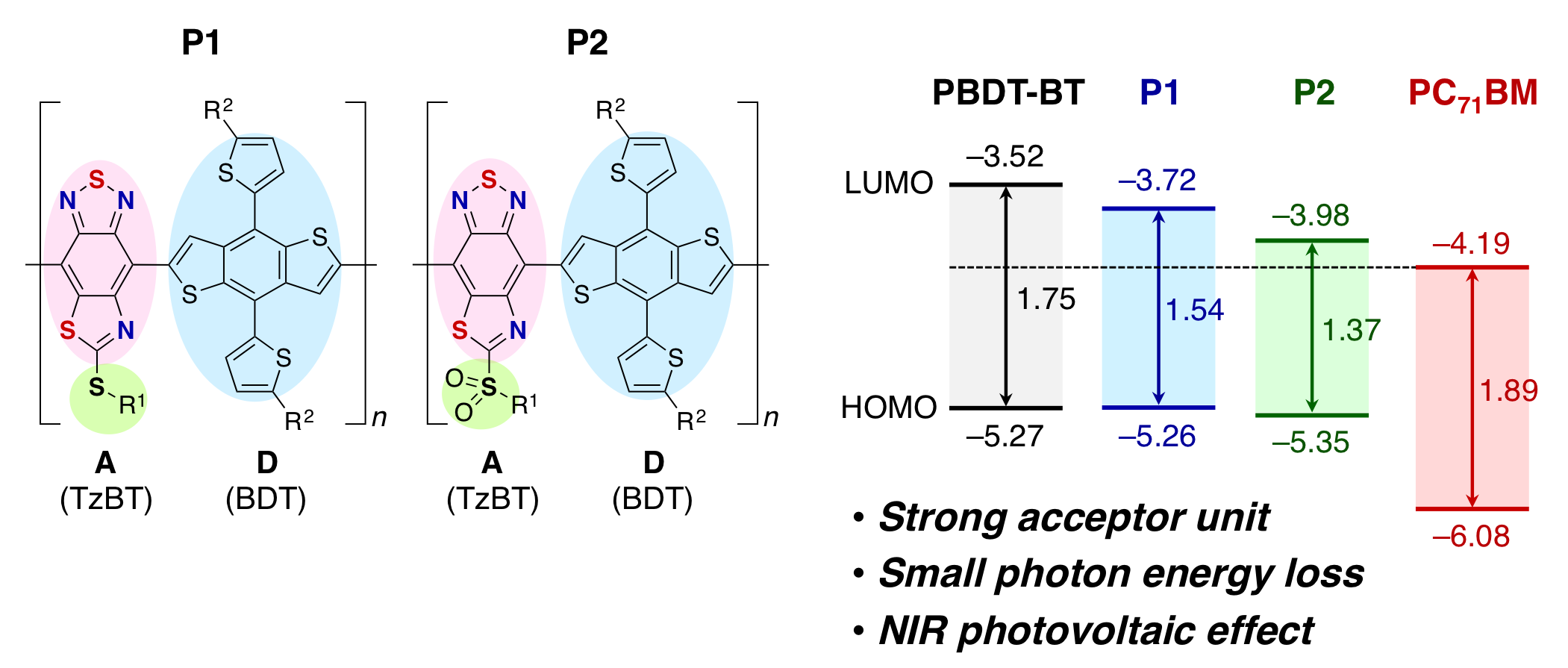 153. Influence of Alkoxy Chain Length on the Properties of Two-Dimensionally Expanded Azulene Core-Based Hole-Transporting Materials for Efficient Perovskite Solar Cells
152. Structure-Property Relations in Ag-Bi-I Compounds: Potential Pb-free Absorbers in Solar Cells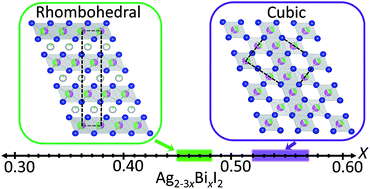 2018
151. Enhanced performance of CH3NH3PbI3-based perovskite solar cells by tuning the electrical and structural properties of mesoporous TiO2 layer via Al and Mg doping
150. Doping Polycyclic Arenes with Nitrogen-Boron-Nitrogen (NBN) Units
149. Calixazulenes: azulene-based calixarene analogues - an overview and recent supramolecular complexation studies
148. NIR-Absorbing Dye Based on BF2-Bridged Azafulvene Dimer as a Strong Electron-Accepting Unit
147. Identifying an Optimum Perovskite Solar Cell Structure by Kinetic Analysis: Planar, Mesoporous Based, or Extremely Thin Absorber Structure
146. Lead-Free Solar Cells based on Tin Halide Perovskite Films with High Coverage and Improved Aggregation
145. High Bending Durability of Efficient Flexible Perovskite Solar Cells Using Metal Oxide Electron Transport Layer
144. Radiative Recombination and Electron-Phonon Coupling in Lead-Free CH3NH3SnI3 Perovskite Thin Films
143. Excitation Wavelength Dependent Interfacial Charge Transfer Dynamics in a CH3font>NH3PbI3 Perovskite Film
142. Efficient Synthesis and Properties of [1]Benzothieno[3,2-b]thieno[2,3-d]furans and [1]Benzothieno[3,2-b]thieno[2,3-d]thiophenes
141. Highly Efficient Pyrene Blue Emitters for OLEDs Based on Substitution Position Effect
140. Photorefractive Effect in Organic-Inorganic Hybrid Perovskites and Its Application to Optical Phase Shifter
139. Roles of Polymer Layer in Enhanced Photovoltaic Performance of Perovskite Solar Cells Via Interface Engineering
138. Mechanochemically-generated solid state complex of C60-fullerene with tetra-(5,7-diphenyl)calix[4]azulene, NMR, XRD and DFT studies
137. Hole-Transporting Materials Based on Thiophene-Fused Arenes from Sulfur-Mediated Thienannulations
2017
136. New blue emitting materials based on triple-core chromophores for organic light-emitting diodes
135. Palladium-Catalyzed Cyclization: Regioselectivity and Structure of Arene-Fused C60 Derivatives
134. Solvent-Coordinated Tin Halide Complexes as Purified Precursors for Tin-Based Perovskites
133. Antiaromatic Dithieno-1,2-dihydro-1,2-diborin Splits Diatomic Hydrogen
132. Minute-Scale Degradation and Shift of Valence-Band Maxima of (CH3NH3)SnI3 and HC(NH2)2SnI3 Perovskites upon Air Exposure
131. Light Intensity Dependence of Performance of Lead Halide Perovskite Solar Cells
130. Synthesis of Azole-fused Benzothiadiazoles as Key Units for Functional 𝜋-Conjugated Compounds
129. Origin of Open-Circuit Voltage Loss in Polymer Solar Cells and Perovskite Solar Cells
128. Rh-Catalyzed Dehydrogenative Cyclization Leading to Benzosilolothiophene Derivatives via Si-H/C-H Bond Cleavage
127. Oxygen-bridged Diphenylnaphthylamine as a Scaffold for Full-color Circularly Polarized Luminescent Materials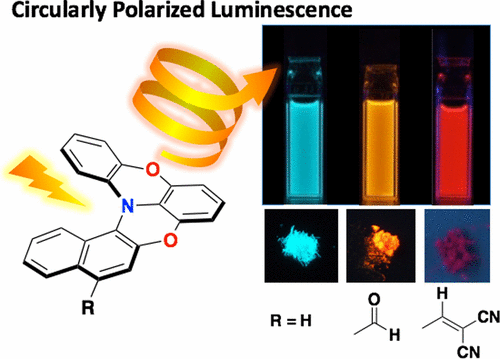 126. Synthesis, Properties, and Crystal Structures of pi-Extended Double [6]helicenes: Contorted Multi-Dimensional Stacking Lattice
125. Fullerene C70 as a Nanoflask that Reveals the Chemical Reactivity of Atomic Nitrogen
124. Isolation of the Simplest Hydrated Acid
123. Orientation of a Water Molecule: Effects on Electronic Nature of the C59N Cage
122. Unsymmetric Twofold Scholl Cyclization of a 5,11-Dinaphthyltetracene: Selective Formation of Pentagonal and Hexagonal Rings via Dicationic Intermediates
121. Development of Transparent Organic Hole-transporting Materials Using Partially Oxygen-bridged Triphenylamine Skeletons
120. Synthesis and Structure of an Open-cage C69O Derivative
119. A Stable, Soluble, and Crystalline Supramolecular System with a Triplet Ground State
118. Structural Modification of Open-Cage Fullerene C60 Derivatives Having a Small Molecule inside Their Cavities
117. D-π-A Dyes with Diketopyrrolopyrrole and Boryl-substituted Thienylthiazole Units for Dye-sensitized Solar Cells with High JSC Values
116. Synthesis of 8-Aryl-O-methylcyanidins and Their Usage for Dye-Sensitized Solar Cell Devices
115. Characterization of Dye-sensitized Solar Cells Using Five Pure Anthocyanidin 3-O-glucosides Possessing Different Chromophores
114. Charge Injection Mechanism at Heterointerfaces in CH3NH3PbI3 Perovskite Solar Cells Revealed by Simultaneous Time-Resolved Photoluminescence and Photocurrent Measurements
113. Cycloaddition of Benzyne to Naphthalene-Fused Tetracene with a Twisted π-Surface
112. Encapsulation and Dynamic Behavior of Methanol and Formaldehyde inside Open-Cage C60 Derivatives
111. Dithieno-Fused Polycyclic Aromatic Hydrocarbon with a Pyracylene Moiety: Strong Antiaromatic Contribution to the Electronic Structure
110. D-π-A Dyes with an Intramolecular B-N Coordination Bond as a Key Scaffold for Electronic Structural Tuning and Their Application in Dye-Sensitized Solar Cells
109. Unprecedented Photochemical Rearrangement of An Open-cage C60 Derivative
108. Highly Efficient and Stable Perovskite Solar Cells by Interfacial Engineering Using Solution-Processed Polymer Layer,
107. 4,7-Bis[3-(dimesitylboryl)thien-2-yl]benzothiadiazole: Solvato-, Thermo-, and Mechanochromism Based on the Reversible Formation of an Intramolecular B-N Bond,
106. Photon Emission and Reabsorption Processes in CH3NH3PbBr3 Single Crystals Revealed by Time-Resolved Two-Photon-Excitation Photoluminescence Microscopy
2016
105. Co(I)-Mediated Removal of Addends on the C60 Cage and Formation of Monovalent Cobalt Complex CpCo(CO)(η2-C60)
104. Free Excitons and Exciton-Phonon Coupling in CH3NH3PbI3 Single Crystals Revealed by Photocurrent and Photoluminescence Measurements at Low Temperatures,
103. Water Entrapped inside Fullerene Cages: A Potential Probe for Evaluation of Bond Polarization,
102. Quantifying Hole Transfer Yield from Perovskite to Polymer Layer: Statistical Correlation of Solar Cell Outputs with Kinetic and Energetic Properties,
101. Charge Injection at the Heterointerface in Perovskite CH3NH3PbI3 Solar Cells Studied by Simultaneous Microscopic Photoluminescence and Photocurrent Imaging Spectroscopy,
100. Free Carriers versus Excitons in CH3NH3PbI3 Perovskite Thin Films at Low Temperatures: Charge Transfer from the Orthorhombic Phase to the Tetragonal Phase,
99. Efficient Synthesis of One- and Two-Dimensional Multimetallic Gold-Bis(dithiolene) Complexes.
98. Near-Infrared Emissive Donor-Acceptor-Type Molecules Containing Thiazole-Fused Benzothiadiazole as an Electron-Acceptor Moiety.
97. Interfacial Charge-Carrier Trapping in CH3NH3PbI3?Based Heterolayered Structures Revealed by Time-Resolved Photoluminescence Spectroscopy
96. Highly Stable Perovskite Solar Cells with An All-carbon Hole Transport Layer,
95. Optical characterization of voltage-accelerated degradation in CH3NH3PbI3 perovskite solar cells,
94. Synthesis and Properties of Endohedral Aza[60]fullerenes: H2O@C59N and H2@C59N as Their Dimers and Monomers.
93. Experimental Evidence of Localized Shallow States in Orthorhombic Phase of CH3NH3PbI3 Perovskite Thin Films Revealed by Photocurrent Beat Spectroscopy.
92. The Influence of Quasiplanar Structures of Partially Oxygen-Bridged Triphenylamine Dimers on the Properties of their Bulk Films.
91. Synthesis of a Distinct Water Dimer Inside Fullerene C70
90. Excimer Emission Based on The Control of Molecular Structure and Intermolecular Interactions
89. Fast Free-Carrier Diffusion in CH3NH3PbBr3 Single Crystals Revealed by Time-Resolved One- and Two-Photon Excitation Photoluminescence Spectroscopy.
88. Facile Synthesis of 1,4-Bis(diaryl)-1,3-butadiynes Bearing Two Amino Moieties by Electrochemical Reaction-Site Switching, and Their Solvatochromic Fluorescence
85. Photo-excitation Intensity Dependent Electron and Hole Injections from Lead Iodide Perovskite to Nanocrystalline TiO2 and Spiro-OMeTAD
2015
87. Hole-Transporting Materials with a Two-Dimensionally Expanded 𝜋-System around an Azulene Core for Efficient Perovskite Solar Cells.
86. Triarylboron-based Fluorescent Organic Light-emitting Diodes with External Quantum Efficiencies Exceeding 20%
84. In Situ Solid-State Generation of (BN)2-Pyrenes and Electroluminescent Devices
83. Purely organic electroluminescent material realizing 100% conversion from electricity to light
82. Trapping N2 and CO2 on the Sub-Nano Scale in the Confined Internal Spaces of Open-Cage C60 Derivatives: Isolation and Structural Characterization of the Host-Guest Complexes
81. Degradation Mechanism of Perovskite CH3NH3PbI3 Diode Devices Studied by Electroluminescence and Photoluminescence Imaging Spectroscopy
80. Dynamic Optical Properties of CH3NH3PbI3 Single Crystals As Revealed by One- and Two-photon Excited Photoluminescence Measurements
79. Electron Deficient Tetrabenzo-Fused Pyracylene and Conversions into Curved and Planar 𝜋- Systems with Distinct Emission Behaviors
78. Designs of Functional 𝜋-Electron Materials based on the Characteristic Features of Boron
77. 1,3,5,7-Tetra(Bpin)azulene by Exhaustive Direct Borylation of Azulene and 5,7-Di(Bpin)azulene by Selective Subsequent Deborylation
76. Spontaneous Defect Annihilation in CH3NH3PbI3 Thin Films at Room Temperature Revealed by Time-resolved Photoluminescence Spectroscopy
2014
75. Photoelectronic Responses in Solution-Processed Perovskite CH3NH3PbI3 Solar Cells Studied by Photoluminescence and Photoabsorption Spectroscopy
74. Excimer Formation in Organic Emitter Films Associated with a Molecular Orientation Promoted by Steric Hindrance
73. Dibenzo[a,f]perylene Bisimide: Effects of Introducing Two Fused Rings
72. Thiazole-Fused Benzothiaziazole as a Key Skeleton for T-Shaped Electron Accepting Building Blocks
71. Elucidation of the Structure-Property Relationship of p-Type Organic Semiconductors through Rapid Library Construction via a One-pot, Suzuki-Miyaura Coupling Reaction
70. Photocarrier Recombination Dynamics in Perovskite CH3NH3PbI3 for Solar Cell Applications,
69. Inhomogeneous Deactivation with UV Excitation in Submicron Grains of Lead Iodide Perovskite-based Solar Cell as Revealed by Femtosecond Transient Absorption Microscopy
68. Synthesis and Structure of an Open-cage Thiafullerene C69S: Reactivity Differences of an Open-cage C70 Tetraketone Relative to Its C60 Analogue
67. Synthesis of Open-Cage Ketolactam Derivatives of Fullerene C60 Encapsulating a Hydrogen Molecule
66. A Crystalline Porous Coordination Polymer Decorated with Nitroxyl Radicals Catalyzes Aerobic Oxidation of Alcohols
65. On-Top 𝜋-Stacking of Quasiplanar Molecules in Hole-Transporting Materials: Inducing Anisotropic Carrier Mobility in Amorphous Films
64. A Designed Fluorescent Anthracene Derivative: Theory, Calculation, Synthesis, and Characteriation
63. Reproducible Fabrication of Efficient Perovskite-based Solar Cells: X-ray Crystallographic Studies on the Formation of CH3NH3PbI3 Layers
62. Near-band Edge Optical Responses of Solution-processed Organic-inorganic Hybrid Perovskite CH3NH3PbI3 on Mesoporous TiO2 Electrodes
60. Constraint-induced Structural Deformation of Planarized Triphenylboranes in The Excited State
2013
61. Modification and Unexpected Reactivity of 2-Borylbenzaldimines: Acylated and Silylated Derivatives as Well as Dimeric Compounds
59. Impacts of Dibenzo- and Dithieno-Fused Strctures at the b, g Bonds in the BODIPY Skeleton
58. Synthesis and X-ray Structure of Endohedral Fullerene C60 Dimer Encapsulating a Water Molecule in Each C60 Cage
57. Expansion of Orifices of Open C60 Derivatives and Formation of an Open C59S Derivative by Reaction with Sulfur
56. Synthesis and Photovoltaic Properties of Acceptor Materials Based on the Dimerization of Fullerene C60 for Efficient Polymer Solar Cells
55. X-ray observation of a helium atom and placing a nitrogen atom inside He@C60 and He@C70
54. Synthesis of Hexa(furan-2-yl)benzenes and Their 𝜋-Extended Derivatives
53. Benzene-fused BODIPY and fully-fused BODIPY dimer: impacts of the ring-fusing at the b bond in the BODIPY skeleton
2012
52. Site-selective Sequential Coupling Reactions Controlled by "Electrochemical Reaction Site Switching": a straightforward approach to 1,4-bis(diaryl)buta-1,3-diynes
51. Planarized B-Phenylborataanthracene Anions: Structural and Electronic Impacts of Coplanar Constraint
50. Palladium-catalyzed Tetraallylation of C60 with Allyl Chloride and Allylstannane: mechanism,regioselectivity, and enantioselectivity
49. Synthesis of a Library of Fluorescent 2-Aryl-3-trifluoromethylnaphthofurans from Naphthols by Using a Sequential Pummerer-Annulation/Cross-Coupling Strategy and their Photophysical Properties
48. Elucidation of 𝜋-Conjugation Modes in Diarene-Fused 1,2-Dihydro-1,2-diborin Dianions
47. Planarized Triarylboranes: Stabilization by Structural Constraint and Their Plane-to-Bowl Conversion
46. Synthesis and Photophysical Properties of Aryl Substituted 2-Borylbenzaldimines and their Extended p-Conjugated Congeners
2011
45. Halichonines A, B, and C, Novel Sesquiterpene Alkaloids from the Marine Sponge Halichondria Okadai Kadota
44. Synthesis of 1-Phospha-2-boraacenaphthenes: Reductive 1,2-Aryl Migration of 1-Diarylboryl-8- dichlorophosphinonaphthalenes
43. Design, Synthesis, and Characterization of Functionalized Silepins: High Quantum Yield Blue Emitters
2010
42. Electronic Tuning of Thiazolyl-Capped 𝜋-Conjugated Compounds via a Coordination/Cyclization Protocol with B(C6F5)3.
41. Selective Introduction of Organic Groups to C60 and C70 Using Organoboron Compounds and Rhodium Catalyst: A New Synthetic Approach to Organo(hydro)fullerenes
2009
40. Tetraaryl-tetradecahydroporphyrazins: Novel Porphyrin Derivatives Featuring a Cyclic Benzene Ring Tetramer
39. Highly Emissive Diborylphenylene-Containing Bis(phenylethynyl)benzenes: Structure?Photophysical Property Correlations and Fluoride Ion Sensing
38. Regioselective Unsymmetrical Tetraallylation of C60 through Palladium Catalysis
37. A B-B Bond-Containing Polycyclic 𝜋-Electron System: Dithieno-1,2-dihydro-1,2-diborin and Its Dianion
36. Aromatic 𝜋-Systems More Curved Than C60. The Complete Family of All Indenocorannulenes Synthesized by Iterative Microwave-Assisted Intramolecular Arylations
35. Intramolecular Reductive Double Cyclization of o,o'- Bis(arylcarbonyl)diphenylacetylenes: Synthesis of Ladder 𝜋-Conjugated Skeletons
34. Structural Modification of Silicon-Bridged Ladder Stilbene Oligomers and Distyrylbenzenes
33. 3,4‐Dihydro‐3H‐pyrrol‐2‐imines as Conformationally Restrained 1,3‐Diazabutadienes: Synthesis, Structural Properties and Protonation
2008
32. Coordination-Induced Intramolecular Double Cyclization: Synthesis of Boron-Bridged Dipyridylvinylenes and Dithiazolylvinylenes
31. Synthesis and Electronic Spectra of Disilatriptycene Oligomers: Evidence for Electronic Delocalization along the One-Dimensional Arrangement of Bridge-Head Disilanes
30. Highly Electron-Donating 3,3'-Diaryl-1,1'-bi(isobenzofuran)s Synthesized by Photochemical Exocyclic [2+2+2] Cycloaddition
29. Electronic Modulation of Fused Oligothiophenes by Chemical Oxidation
28. Red-Emissive Polyphenylated BODIPY Derivatives: Effect of Peripheral Phenyl Groups on the Photophysical and Electrochemical Properties
27. Synthesis and Structural Characterization of Pentaarylboroles and Their Dianions
26. Aryl-Aryl Bond Formation by Flash Vacuum Pyrolysis of Benzannulated Thiopyrans
25. Kinetically Stabilized Dibenzoborole as an Electron-Accepting Building Unit
2007
24. 3-Boryl-2,2'-Bithiophene as a Versatile Core Skeleton for Full-Color Highly Emissive Organic Solids
23. Relative Stereochemistries of the Ether Rings and Sugar Moieties in Durinskiol A
22. Highly Emissive Poly(aryleneethynylene)s Containing 2,5-Diboryl-1,4-phenylene as a Building Unit
21. Single Crystal Field Effect Transistors of Benzo-Annulated Fused Oligothiophenes and Oligoselenophenes
20. Crystallographic and Chiroptical Studies on Tetraarylferrocenes for Use as Chiral Rotary Modules for Molecular Machines
19. Ladder Distyrylbenzenes with Silicon and Chalcogen Bridges: Synthesis, Structures, and Properties
18. Pentaindenocorannulene and Tetraindenocorannulene: New Aromatic p Systems with Curvatures Surpassing That of C60
17. General Synthesis of Extended Fused Oligothiophenes Consisting of Even Number of Thiophene Rings
2006
16. Highly Emissive Organic Solids Containing 2,5-Diboryl-1,4-phenylene Unit
15. High Fidelity Self-Sorting Assembling of meso-Cinchomeronimide Appended meso- meso Linked Zn(II) Diporphyrins
14. Intramolecular B-N Coordination as a New Scaffold for Design of Electron-Transporting Materials: Synthesis and Properties of Boryl-Substituted Thienylthiazoles
2005
13. Synthesis, structures, and photophysical properties of silicon and carbon-bridged ladder oligo(p-phenylenevinylene)s and related 𝜋-electron systems
12. General Synthesis of Thiophene and Selenophene-Based Heteroacenes
11. Toward p-Conjugated Molecule Bundles; Synthesis of a Series of B,B',B"- Trianthryl-N,N',N"-triarylborazines and the Bundle Effects on their Properties
10. Ladder Oligo(p-phenylenevinylene)s with Silicon and Carbon Bridges
2004
9. Ladder Bis-Silicon-Bridged Stilbenes as a New Building Unit for Fluorescent 𝜋-Conjugated Polymers
8. General Silaindene Synthesis Based on Intramolecular Reductive Cyclization toward New Fluorescent Silicon-Containing 𝜋-Electron Materials
7. Crystal Structures and Spectroscopic Characterization of Radical Cations and Dications of Oligothiophenes Stabilized by Annelation with Bicyclo[2.2.2]octene Units:? Sterically Segregated Cationic Oligothiophenes
2003
6. Synthesis and Properties of Novel Oligothiophenes Surrounded by Bicyclo[2.2.2]octene Frameworks
5. Synthesis, Structure, and, Dynamic Behavior of Cyclopentadienyl-Lithium, -Sodium, and -Potassium Annelated with Bicyclo[2.2.2]octene Units: A Systematic Study on Site Exchange of Alkali Metals on a Cyclopentadienyl Ring in Tetrahydrofuran
2002
4. 1,2-Dithiin Annelated with Bicyclo[2.2.2]octene Frameworks. One-Electron and Two-Electron Oxidations and Formation of a Novel 2,3,5,6-Tetrathiabicyclo[2.2.2]oct-7-ene Radical Cation with Remarkable Stability Owing to a Strong Transannular Interaction
3. The Stable Radical Cation of Thiophene Annelated with Bicyclo[2.2.2]octene and Its Reaction with Triplet Oxygen to Give a Protonated Cation of 2-Butene-1,4-dione Derivative
1999
2. The First Isolation of the Hexafluoroantimonate Salt of a 1,4-Dithiin Radical Cation Stabilized by Bicyclo[2.2.2]octene Annelation
1. 1,4-Dithiin Annelated with Bicyclo[2.2.2]octene Units: Experimental and Theoretical Evidence for the Aromaticity of 1,4-Dithiin Dication
Review
10. Prospects for Tin-Containing Halide Perovskite Photovoltaics
9. Challenges and strategies toward long-term stability of lead-free tin-based perovskite solar cells
8. Progress in recycling organic-inorganic perovskite solar cells for eco-friendly fabrication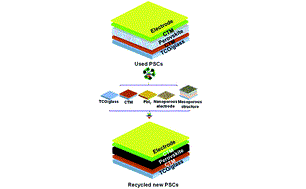 7. Materials Chemistry Approach for Efficient Lead-Free Tin Halide Perovskite Solar Cells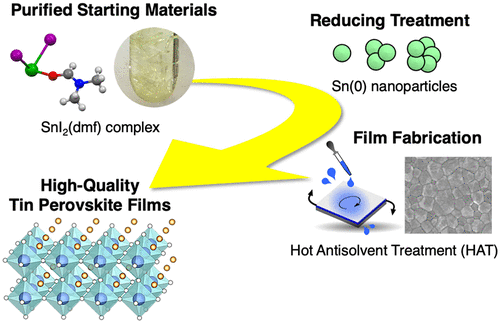 6. Partially Oxygen-Bridged Triphenylamines with a Quasiplanar Structure as a Key Scaffold for Hole-Transporting Materials
5. Design of Functional 𝜋-Electron Materials based on the Characteristic Features of Boron
4.Exploiting Boron Characteristics to Develop Highly Emissive Organic Solids
3. Design and Synthesis of Boron-Containing Functional 𝜋-Electron Materials
2. IP-Catalyzed Direct Borylation of Arenes
1. Boron as a Key Component for New 𝜋 - Electron Materials
Book
4. Incorporation of Boron into π-Conjugated Scaffolds to Produce Electron-Accepting pi-Electron Systems Electron Systems
3. 「第2章-11 準平面構造を鍵骨格に用いた有機半導体材料の開発」
2.「第2編 第6章 有機金属ハライドペロブスカイト材料の線結晶構造解析」
1. 「含ホウ素環状π電子系の化学」